Greensky Bluegrass (Horning's Hideout • Oregon) • L.E. Official Poster (16" x 24")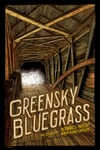 Greensky Bluegrass
July 27th & 28th, 2021 at Horning's Hideout in North Plains, Oregon

Info:
Five-color screenprint on 100# French cover stock
16" x 24"
Signed & Numbered Artist Edition of 20

Illustration/Design: Dan Black
Watercolor: Jessica Seamans

IMPORTANT NOTE: LIMIT ONE PER PERSON, PER HOUSEHOLD, ADDRESS, etc. Please don't be weird, lest we refund your whole order and mutter your name in hushed tones, slowly & spitting, during our collective end-of-the-year mass hex. Seriously though, make this easy for us. ALL SALES are FINAL (Please make sure your address is updated).