"Islandlike Inlandites, pt 1" • Ltd. Edition Book of Landland Process Artifacts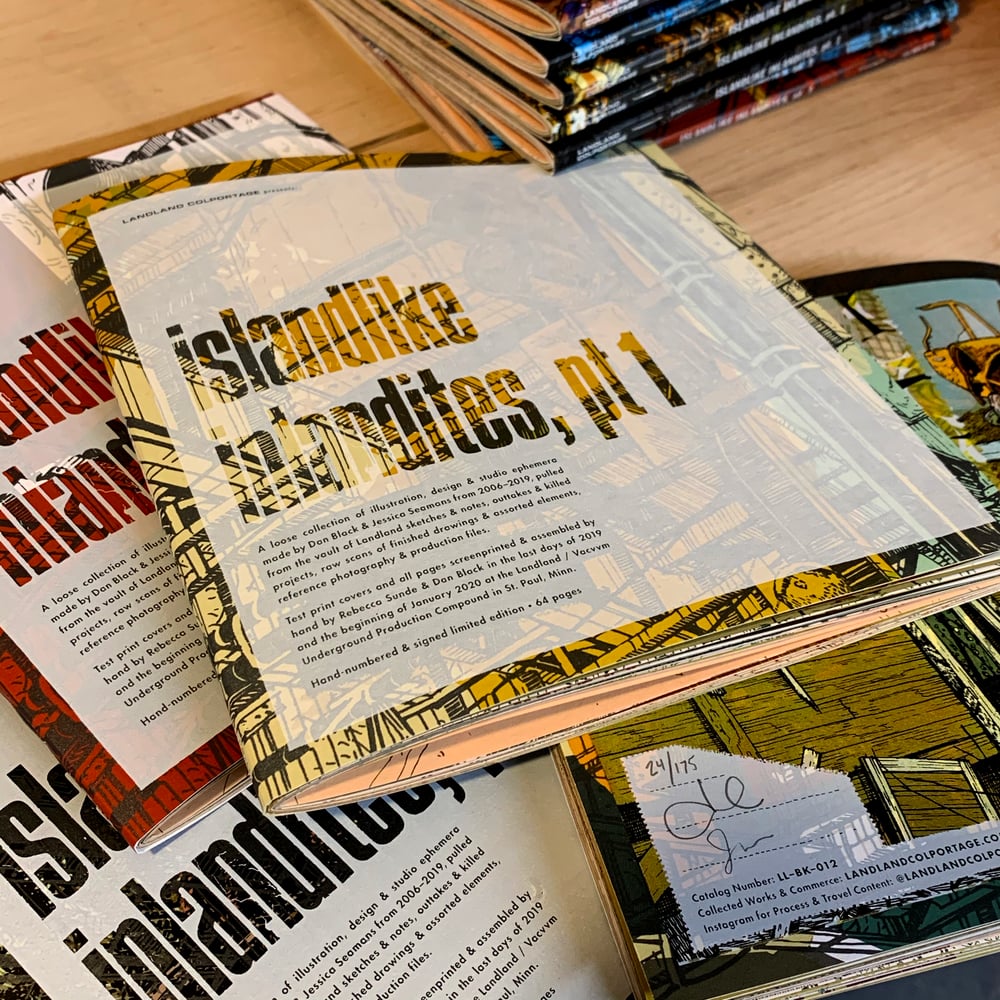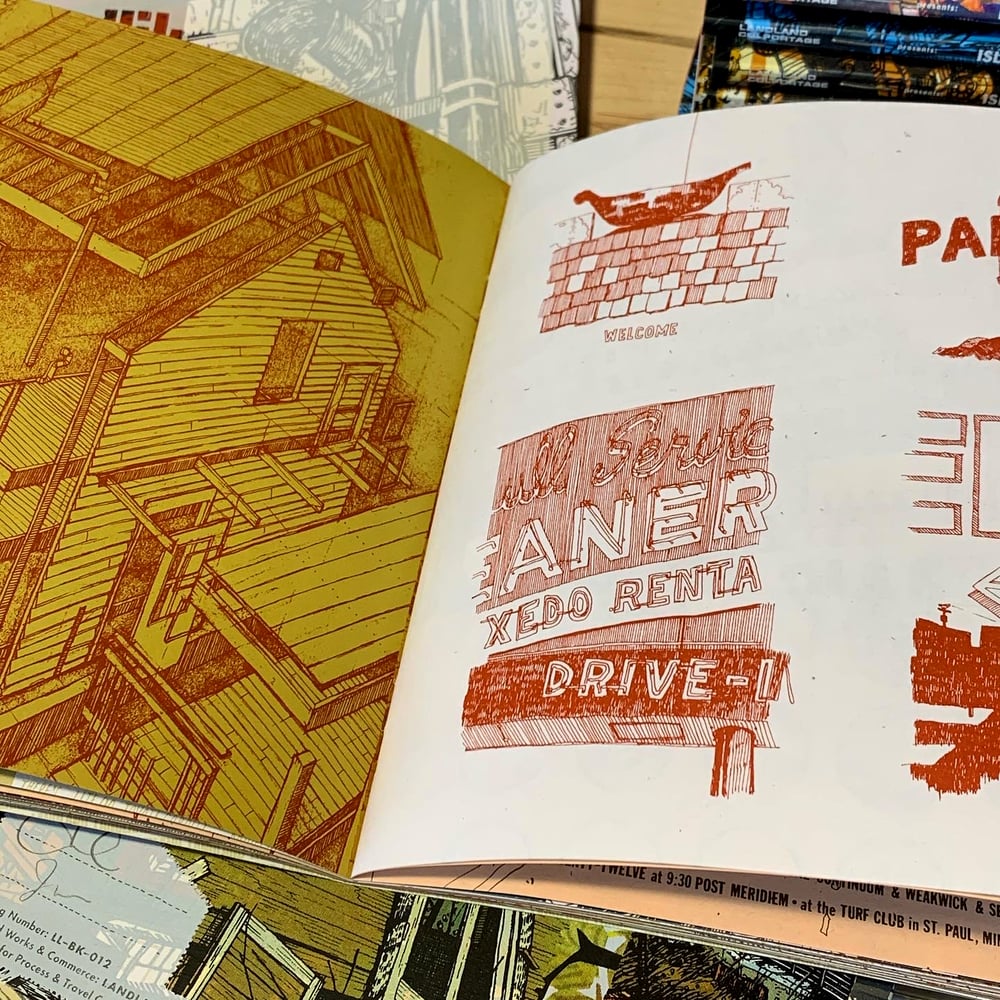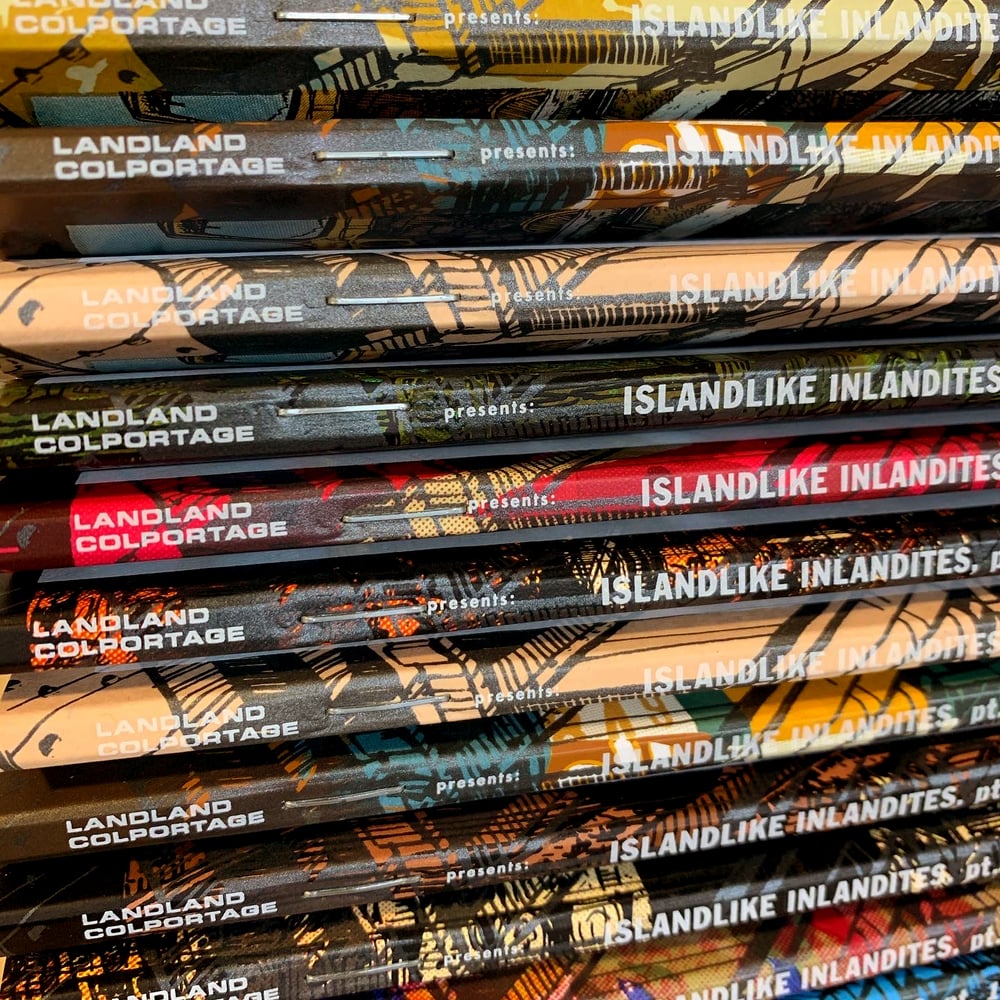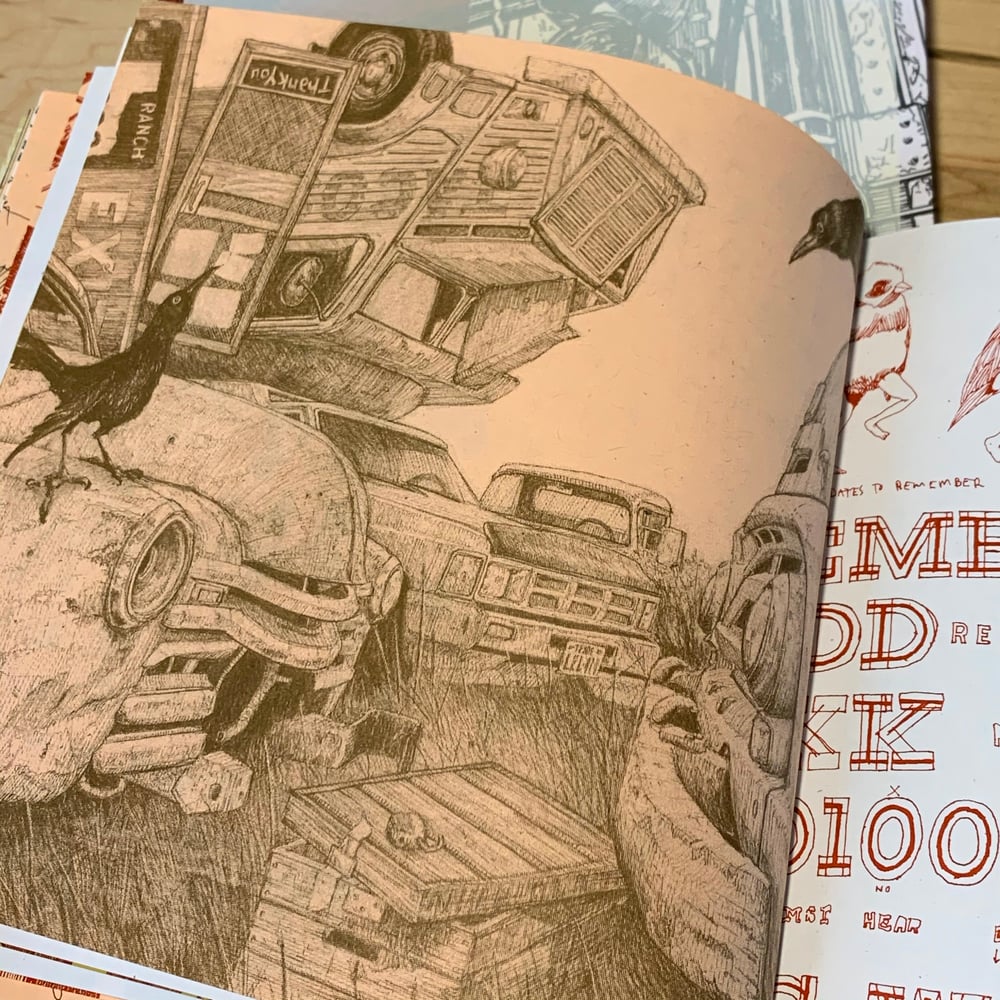 Landland presents "Islandlike Inlandites, pt 1"
A small book of our process artifacts, 2006–2019
(LL-BK-012)
Limited Edition of 175 copies.
Hand-numbered and signed by Jes & Dan
64 pages, all screenprinted • 7.5" x 7.5"
We're very excited & proud to present our very first BOOK release on the Landland Colportage "record" label: "Islandlike Inlandites, pt 1" is a loose collection of illustration, design & studio ephemera made by Dan Black & Jessica Seamans from 2006–2019, pulled from the vault of Landland sketches & notes, outtakes & killed projects, raw scans of finished drawings & assorted elements, reference photography & production files.
Built entirely by hand at Landland, with 100% screenprinted pages and covers made out of Landland test prints spanning the entire existence of our print studio, "Islandlike Inlandites, pt 1" is the first* in an on-going series of Landland process documents. It's a sorta-rare look at the individual workhorse components that were built in service to larger projects, pulled from their intended purposes, recontextualized and given their own spotlight in these pages.
Printed and assembled by Rebecca Sunde, Dan Black & Jessica Seamans in the last days of 2019 and the beginning of 2020 at the Landland / Vacvvm Underground Production Compound in St. Paul, Minn.
A big part of the point of this book is to de-emphasize the end product of all of this work, but for the sake of describing its contents, I should mention that the things in here come from work that we've done for: Arcade Fire, Andrew Bird, Mount Eerie, Phish, Nickel Creek, Logan Arcade, Little Otsu, The Black Keys, Eric Church, American Football, The Hold Steady, Tim Kinsella, some t-shirt company, Mogwai, Built to Spill, Mondo, Trey Anastasio, Iron & Wine, Slow Mass, Bon Iver, Texas is the Reason, notes that we've carried around, and a lot of other things I can't really sort out because that's not really how this thing was built.
Note: The test print covers are one-of-a-kind and vary completely from each other. They've all been curated and hand-selected to look rad (which is subjective, I guess), but there's no practical way to ship these out aside from doing it at random. If you want to make some sort of vague requests in the notes to your order, that's totally cool and we'll do the best we can, but as David Berman taught us, baby, there's no guidance when random rules.
(*we've asterisk'd saying "first" up there, because technically, there's an "Islandlike Inlandites, pt 0" that was included in the "Mega-Deluxe Bundle" for the first pressing of Slow Mass's "On Watch" LP. It was a smaller and less elaborate version of this, made mostly for fun and also as a test to see if we could even make a book at all. Turns out, we could...so now here we are. This one is better.)